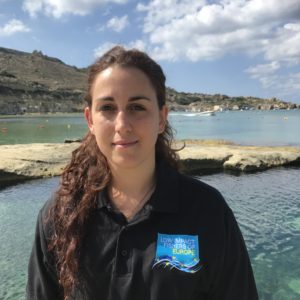 Brussels, 11th October 2018
Claudia Orlandini
In the framework of its three years project "Mainstreaming small-scale low impact fisheries in the Mediterranean" funded by the MAVA Foundation, LIFE is reinforcing its presence on the ground in order to provide increased support to the small-scale fishing communities in the region (click here for more information on the project).  Alicia Said was selected to help LIFE in this important task across Malta . 
Dear Alicia, welcome to LIFE! With an academic background in human ecology and many years of experience working with fishers on the ground, including through the Too Big To Ignore network, we can say that you have been "hooked" to small-scale fisheries for some time now. What is the driver behind your passion for supporting the small-scale fishing sector?  
I was brought up in a rural community surrounded by farmers and fishers, my father being one of them, and I have some nice memories of my childhood at sea. In the past 10 years, I started noticing a disappearance of what were vibrant fishing communities, and I really wanted to understand what was happening and why the thriving coast was slowly becoming only a cherished memory. Therefore, I decided to pursue my studies in this field to delve into what was driving these major changes. So the past five years have been dedicated to understanding the Malta small-scale fishing sector, and more recently, I have looked the issues from a global perspective through my post-doctoral research with the Too Big to Ignore Global Partnership for small-scale fisheries research.
You are Maltese and have a deep knowledge of the sector in your home country. Can you tell us more on the current situation of small-scale fisheries in Malta? What are the main challenges Maltese fishers have to face locally?
As a researcher, I focus on small-scale fisheries sustainability, as I believe it is the way forward to engender viable fishing communities, especially in small island states like Malta.  Maltese small-scale fisheries are vulnerable to the incremental implications deriving from policy changes dawning onto the endogenous Maltese fishing patterns since EU accession in 2004. Access to fisheries resources and quotas, competition with other marine users, as well as declining fish stocks, and issues relating to access to decision-making fora are few of the challenges of Maltese fishers. Moreover, these issues are complex and interlocked, and thus resolving them needs careful attention and inclusive participation from the fishers themselves.
By recruiting you as Project Manager for Malta, LIFE wants to give Maltese small-scale fishers the opportunity to have someone on the ground to help them reinforce their local networks, to support them in designing local projects and solutions but also in making their voice heard at the European Institution and international level. What are, according to you, the most urgent messages that need to be brought to the attention of these decision-makers from a Maltese perspective?  
I believe that that fishers need to be given a voice, more support, solutions and alternatives. You have a sector where the number of small-scale fishers is constantly declining, and reviving it needs a good policy that actually caters for the small-scale sector. The sector has different fishers with distinct needs, thus understanding such complexity is necessary to ensure that the policies fit the multifaceted nature of the small-scale fisheries. Incentives to improve the access to fisheries resources and quotas, and market systems such as adding value to their catches are measures that can have long-term benefits.  More studies on the socio-ecological systems need to be pursued to ensure that fishers livelihoods continue in to the future. Moreover, catering for the regeneration of the sector is crucial. Perhaps making space for young fishers who would like to join the sector and are unable to afford the start-up investment, can secure the continuity of the sector.
It is well-known that Malta is a key player in industrial aquaculture, especially for the fattening of Bluefin Tuna.  In your view what are the consequences of such massive investments for a just and equitable maritime spatial planning that ensures that the interests of local coastal communities are taken into account?
According to a study which we carried out in 2016, tuna ranching in Malta has changed the economy of the small-scale fishing sector, as the transferability of the quotas has allowed the concentration of fishing rights into fewer hands, leaving little opportunity for the small-scale sector to participate in this fishery. In the past year, there has been a positive change as the government has allocated 25 tonnes for non-permit holders, which is a good sign of equitable distribution. Nonetheless, the way by which those 25 tonnes have actually benefitted the small-scale sector is something that needs to be looked into. With regards to marine spatial planning, fishers are increasingly undergoing spatial squeezing within the inshore fishing grounds. Competing for space is something they have to do on a daily basis, and the advent of the marine protected areas as a new layer in the congested sea calls for urgent measures to ensure that fishers' livelihoods are safeguarded.
Through the Too Big to Ignore (TBTI) network you had the opportunity to get in touch with a number of fishing communities from different parts of the world. Are there any best practices that you have seen abroad that you think would bring positive benefits in Malta?
With TBTI I have been able to learn about the different challenges and opportunities of small-scale fisheries around the world. For example, in South Africa, TBTI along with Masifundise Development Trust, the Institute for Poverty, Land and Agrarian Studies (PLAAS) at the University of the Western Cape, has developed a small-scale fisheries policy handbook to inform fishing communities about their rights and obligations. I believe that such strategies empower communities to improve their negotiating power to influence policies that determine their futures. Another highlight which I think deserves to be acknowledged is the planned gathering of scientists, policy-makers and fishing communities during the 3rd world small-scale fisheries conference, which will be held in October 2018 in Thailand.  I look forward to attending and being part of the conversation that will give a voice to fishers.
We hope you are excited to officially join the LIFE Mediterranean team for this new adventure. What are the priorities you plan to tackle in your new role?
I will be looking forward to support the Malta Small-scale Fisheries Network (MSFN) which has been launched recently to bring together fishers and other stakeholders to discuss challenges and opportunities for the sector. I will, of course, continue pursuing further research about the sector to be able to inform the policy-making spectrum, both at the national and regional levels. All in all, it's all about bringing back the fishing communities, and making them something of the future and not a memory of the past.
♦ ♦ ♦