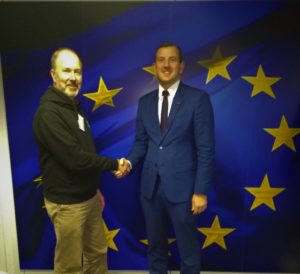 LIFE Meets with Commissioner-designate for the Environment and Oceans, Virginijus Sinkevičius
Fisheries are, and will continue to be, an integral part of the EU's blue economy – with an essential role to play in decarbonizing the food sector and in food security, LIFE was informed. Small-scale low impact fisheries could play an important role in this regard, and fishers are ready to play their part, LIFE informed the Commissioner-designate.
Brussels, 2nd of October 2019
Low Impact Fishers of Europe (LIFE) were very happy to kick off the month of October with a meeting with the Commissioner-designate for the Environment and Oceans, Virginijus Sinkevičius.
Our wide-ranging discussion covered several issues of concern to the small scale sector, including quota redistribution, the landing obligation, marine spatial planning and inshore fisheries, access to markets, Producer Organisations for small-scale fish producers, fisheries subsidies, the integration of fisheries into the wider blue economy, and last but not least the key role of women all along the value chain.
LIFE emphasised that successive Common Fisheries Policies had failed to grasp the importance of small-scale low impact fisheries and to capitalise on their potential to contribute to sustaining food supplies, livelihoods and the cultural heritage of coastal communities. If treated fairly and supported by effective policies, the latent potential of small-scale low impact fisheries could be mobilized to provide solutions to the problems besetting European fisheries.
The widening focus of the Directorate dealing with Maritime Affairs and Fisheries to Oceans governance and the blue economy potentially has huge implications for fisheries. Not the least of which is rise of aquaculture as the future source of food from the sea.
LIFE and its members are at the disposal of the new European administration to support the three pillars of sustainability – the social, economic and environmental dimensions.
Further information:
Mission letter of the European Commission: https://ec.europa.eu/commission/sites/beta-political/files/mission-letter-virginijus-sinkevicius_en.pdf
Answers to the European Parliament: https://www.europarl.europa.eu/resources/library/media/20190927RES62446/20190927RES62446.pdf
Proposed priorities for the EC Directorates (For DG Mare see page 114 – A Blue Economy Initiative to Combat Climate Change): https://www.politico.eu/wp-content/uploads/2019/08/clean_definite2.pdf
♦ ♦ ♦