Barbara della Rovere
Karoliina Lehtimaeki, a 27-year-old woman, could never have imagined taking up fishing as a profession. However, fate had other plans for her. It all started during the 2021 winter seining fishing season when her friend from university, who worked for the Snowchange Cooperative, asked her to help in cleaning vendace, a local commercial fish species. Although she had no idea about this task, Karoliina agreed to help out.
While they were learning the art of cleaning vendace by hand, Karoliina's friend Noora told her more about seine fishing in Finland, especially in Lake Puruvesi. Karoliina was fascinated and joined the seine cleaning crew a few times this winter to learn more about the process.
Today Karoliina is already in her second winter as a member of the seining crew. Under the guidance of Lauri Haemaelaeinen, the crew leader, she is well on her way to becoming immersed in the fishing profession . Henri Leskinen, who only fishes in winter, is also part of the team. Together they fish at Lake Puruvesi in eastern Finland, which is known for its clear water and centuries-old tradition of winter seining.
Their winter seining season lasts from early January to early April, depending on ice conditions. During the open water season, which usually lasts from March to November, they switch to fishing with traps and gillnets. On the occasion of International Women's Day, LIFE spoke with Karoliina to learn about this tradition and her perspective on the fishing way of life and her role in Puruvesi.
What' do you like best about fishing on a frozen lake?
I must say that the view is pretty impressive and you don't get tired at -20 degrees. But it's really amazing how every day you learn something new about the lake, nature and fishing itself.
What types of fish are usually caught in the area where you fish?
The main species of fish we catch with the seine is the vendace or European cisco. It's a salmonid, but much smaller – like an anchovy and other small pelagic fish.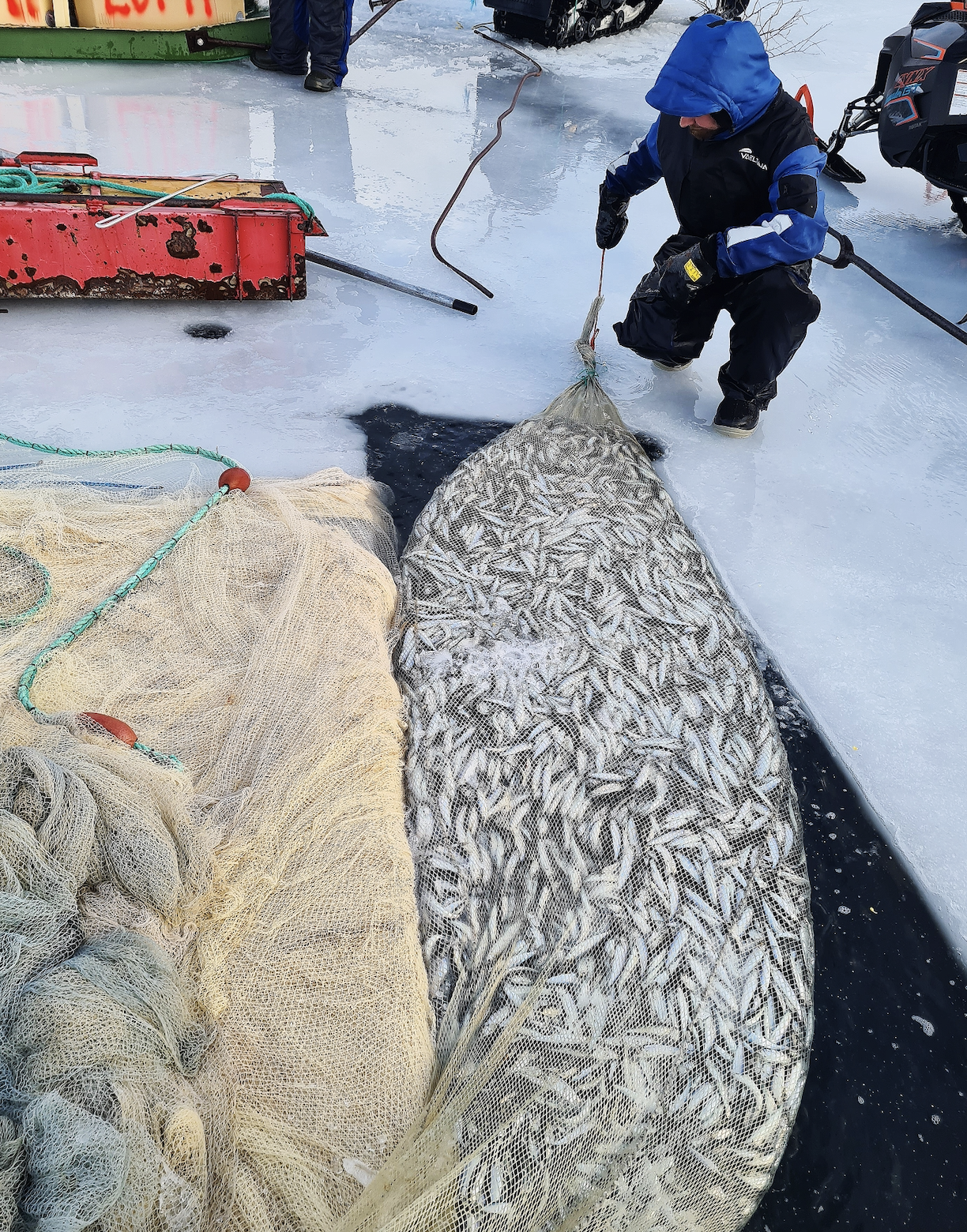 What kind of equipment do you need for ice fishing?
Well, there's a lot of everything. We use snowmobiles and sleds to move the equipment around on the ice. An ice drill to drill holes in the ice, a chainsaw to cut it, and an ice pick to get the big ice cubes under the ice. Then we need the sein itself, which is 18 metres high and 280 metres long. The rest of the stuff is almost entirely for moving the sein: a guiding torpedo that travels under the ice and guides the ropes between two ice holes 600 metres apart, a "floating torpedo sled" to spread the seine under the ice, and rope pulling machines to help pull the seine. There's much more, but these are the most important.
How do you ensure your safety when fishing on a frozen lake?
First, we make sure we do not go on the ice until it' is thick enough. It must be at least 15 cm thick ("steel ice", strong and bright ice) before you can go there with snowmobiles and other equipment.We have to be careful every day not to get tangled in the ropes and move around on the ice so that there' are no cracks or waterbeds under the snow.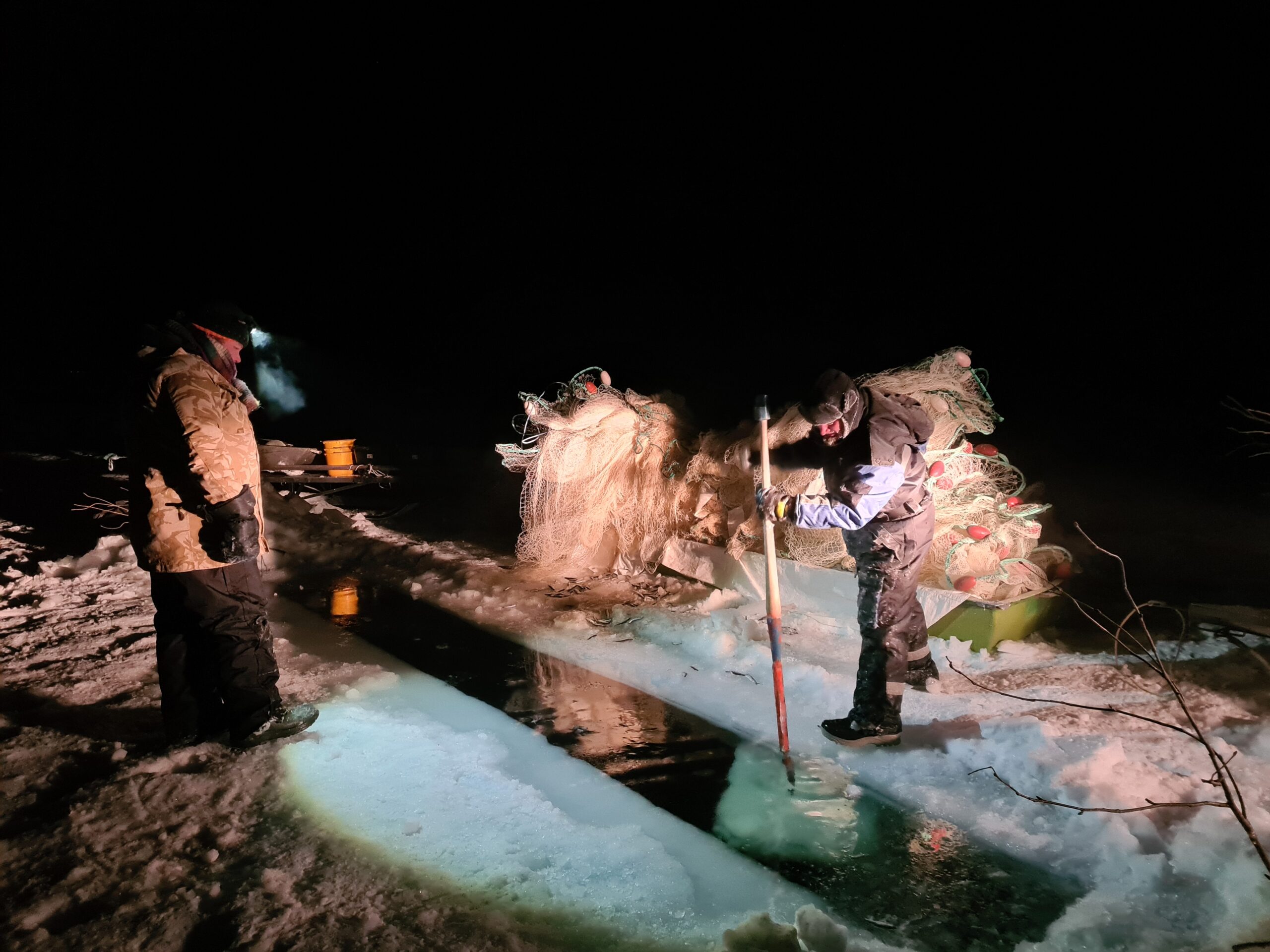 Have you noticed any changes in ice thickness or quality in recent years due to climate change? If so, have these changes affected your ice fishing activities?
I've heard from older fishermen that the lake used to freeze much earlier and melt later, so the seining season lasted from early November to late March. This means that today the season is at least three months shorter and ice conditions are more fragile because the weather changes so quickly. For example, it can be above zero degrees one week and -25 degrees the next. This means that ice conditions are getting more and more difficult. Last winter there was almost 30 cm of slush on the ice and all the equipment got stuck. This winter the lake first froze over a little, then melted again and then quickly froze over again, so slush has formed under the ice, which means the guide torpedo is stuck under the ice and can't move. And some of the traditional fishing spots cannot be used this year.
Do you think climate change will continue to have a significant impact on ice fishing in Finland?
I cannot imagine that it will get better if the weather changes become even more extreme, as predicted. Probably the season will become shorter and shorter and new problems will arise. And if the lakes freeze over unevenly, it will be more dangerous to move around on the ice. And of course, all the effects of climate change will eventually affect fish stocks.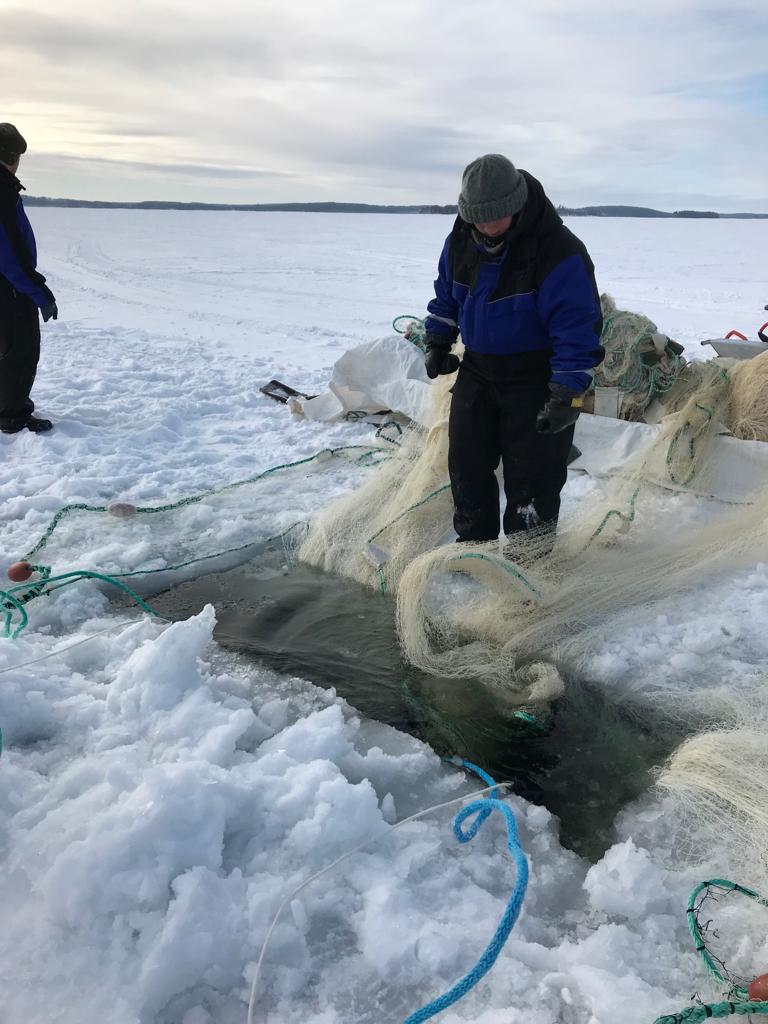 How important is ice fishing to Finnish culture and way of life, and how might it be affected by climate change?
Winter seining is part of Finland's cultural heritage, but it only takes place in certain parts of Finland, for example Lake Puruvesi. The tradition has been maintained for hundreds of years and passed down from generation to generation in many families. It would be a great loss for the culture and ecosystem of the lake if this tradition were to die out.
Karoliina's journey from a beginner to an experienced professional is a testament to the power of curiosity and a willingness to learn. Who knows where her newfound passion for fishing will take her?
Would you like to see Karoliina in action? Click here and watch "The Winter Seiners of Puruvesi". This film portrays a day on the ice with two teams of Finnish fishers, practicing this unique form of net fishing under the ice, including rarely seen footage from the 1930s and 1960s.