Recently the "Association of Small Coastal Fishermen of the Adriatic" became a member of LIFE Platform. Last week we chatted with Kazimir, one of the small-scale fishers of this organisation in Croatia to get to know them a bit better.
November 14th, 2023
1.First of all, Welcome to LIFE! We are thrilled to welcome your organisation as a new member of the LIFE platform. Could you tell us a bit about yourself, your organisation, and the area you fish in? 
My name is Kazimir Bogović. I'm based on an island in Croatia called Mali Losinj. I've been a professional fisherman for 7 years, I used to own two restaurants but then I decided to go back to fishing because I come from a fishing family and I enjoy working alone. I'm actually originally from another neighbouring island, my family is still there working in tourism and fishing. I have two small children, two girls aged 3 and 6, and small scale fishing allows me to manage a work and private life balance better than working in restaurants.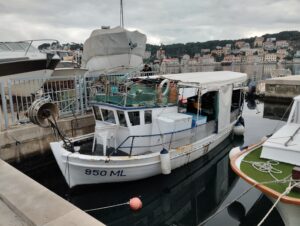 2. Since when has this organisation existed? How many fishers does your association represent and in which area do you fish? 
The organisation "Association of Small Scale Coastal Fishermen of the Adriatic" is two years old, it was an initiative from the government initially as part of an Interreg cooperation programme between Italy and Croatia. The idea behind the creation of the organisation is to promote sustainable fishing and eventually create a producer's organisation to distribute and sell our catches at a better price. Until its creation we have mostly focused on the sharing of information regarding how to best sell our catches, comply with fishery regulations, the use of fishing gear, address common problems and basically manage our future better. The organisation is still under development, it is very young, but we are now officially registered. It allows us to not only exchange information amongst Croatian members but also with the members in the similar Italian organisation created at the same time.  
There are 60 fishermen in Mali Losinj island alone, but not all are members of the organisation yet. Up to date, the organisation is formed by 41 fishermen which are located across the entire coast of the country, although mostly are in the northern part of Croatia up until Istria. All boats are under 12m, and use small-scale, low impact, fishing gear. 
3. Small scale fishers use a wide range of fish gear, adapting to the species and the seasons. Could you tell us what kind of fishing gear the fishers in your community use? How big are your boats and which are your target species? 
In winter, I mostly use the harpoon at night. 80% of my catches are octopus and squid. I only catch big fish. In summer I use longline fishing, traps and sometimes I also use some nets. Other fishers in the area will use similar gear, fishing nets, some lobster nets and several also use traps for scampi mostly in an area where trawlers have been banned, and where they get good catches. This is actually a very popular fishery in our area for the high value of the catch and selectivity of the gear. Unfortunately it is not easy to get licences for fishing shrimps mostly due to the high cost linked to it.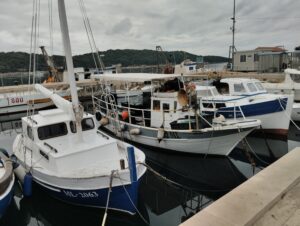 4. The main mission of LIFE is to provide a voice for the sector at the European and institutional levels, but also to support fishers with overcoming their challenges on the ground. Could you tell us more about the main concerns of the fishers in your region? What are the current battles your community is engaged in? 
Our main challenge is unfair competition due to the large numbers of recreational fishing licences that exist in the country, around 100.000, when there are 4039 professional fishers, of which 80% are SSF. There is very little control on catch levels and illegal selling channels. For this reason we welcome the recent control regulation initiative from the EU commission. Our government has promised us that from next year all recreational fishers will have to register their catches in an app, but the problem of course is how will they control 100.000 fishers. The regulations that anglers have to follow are very different from the regulations we have to follow, when it comes to engine regulations for example. 
It is also a challenge to get enough fishers to attend the meetings we are invited to. At the last meeting only 2 fishers came. It is hard to get people's interest but then they complain if nothing is done. Some fishers in Istria have conflicts with the trawlers fishing scallops, since they are not respecting the speed at which they should fish, and therefore have more bycatch, which impacts the fisheries in the area. 
We also have challenges with our selling prices, due to the monopoly of one big buyer and distributor, called Friulpesca who has a big influence on the prices. We don't sell to them but due to the  size of this company they have an important impact on the market. Finally, we also have many interactions with tourism in summer. 
5. Finally, could you tell us more about your motivations to become a member of LIFE? And what do you expect from being a member of LIFE?
We became a member of LIFE to have access to more relevant information on the fishing sector and learn from other organisations outside Croatia. We want to be able to exchange information, and look for guidance, especially now we are establishing our SSF organisation. In a couple of years a big area where we fish will be declared a Natura 2000 protected area, for example. We are part of the conversations to establish the areas where we'll be able to fish and where we won't. These are important conversations and times for us, and therefore we appreciate any help and guidance we can have from learning from other fishing communities in Europe.